 只提供英語內容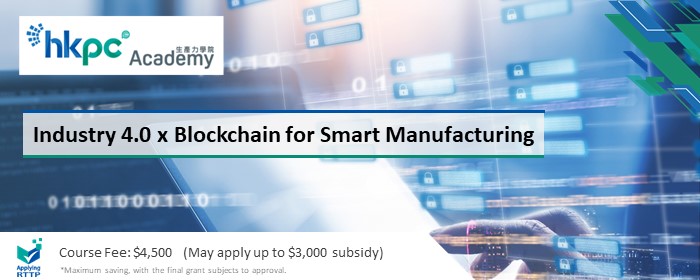 Nature
Theory of Industry 4.0 includes the technologies in Internet of Things (IoT), connectivity, data analytics and Human-Machine Interface (HMI). By the end of the course, you will know how to adopt the technologies in different business areas to create a new digital business model and realise the values. This course will also discuss the fundamental blockchain technologies, its features and applications in smart manufacturing. Participants will exercise on how to leverage the technologies to their daily operations.
Duration
19 Nov 2020 (09:00-17:00)
Content
Industry 4.0 Framework, the introduction of the enabling technologies, smart applications, and new digital business model
Digital LEAN and digital transformation values
Blockchain fundamentals
Blockchain governance and consensus
Blockchain features and applications in smart manufacturing and supply chain
Group discussions in the adoption of the technologies
Advance understanding of the digital transformation theory and requirements
Guided tour to HKPC smart demo factory (TBD)
Certificate of Training
Certificate of Attendance issued by the Hong Kong Productivity Council will be awarded to participants who are in full attendance
Course Fee
HK$1,500* (Original Price: HK$4,500)
*RTTP Funding
This course is subject to approval under the Reindustrialisation and Technology Training Programme (RTTP), which offers up to 2/3 course fee reimbursement upon successful applications. For details: https://rttp.vtc.edu.hk.
RTTP Training Grant Application
Companies should submit their RTTP training grant application for their employee(s) via https://rttp.vtc.edu.hk/rttp/login at least two weeks before course commencement.
Alternatively, application form could be submitted by email to rttp@vtc.edu.hk along with supporting documents.
Medium of Instruction
English and Cantonese
Speakers
Certified i4.0 Consultant of HKPC
Supporting Organisation
Hong Kong Computer Society