Professional Certificate - Customer Experience & Sentiment in Luxury Retail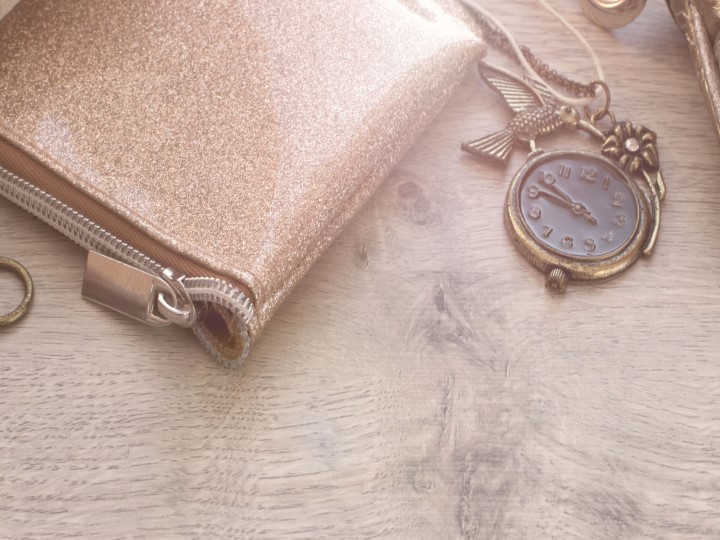 只提供英文版本
Objective:
Luxury retail is about luxury customer experience which requires specific competencies, and it is essential to understand customer psychology: why customers buy luxury goods.
This online programme is based on the method of "Active Selling" developed by Francis SRUN, an expert in luxury selling with 20 years of experience with high-end luxury groups. It shows you how the psychology of luxury brands truly plays into high-value customer motivations and unlocks the potential to understand their decision processes which are unlike that of any other customers, and how to influence customers positively.
Learning Outcomes:
Understand luxury customer psychology: why do they buy
Understand customer decision process and be able to persuade
Handle customer selling process effectively (the 7 selling steps)
Romance and seduce: how to increase desires
Master customer objections: how to reduce fears
Able to build long-term relationship with customers
Programme Contents:
Module 1 – Luxury Aspiration (29 Oct – 4 Nov 2021)

What is Luxury and How to be Luxury?
Understand Luxury customers decision process
Module 2 – Customers Decision Process (5 – 11 Nov 2021)
Presentation of Luxury Selling, Active Selling Method: sell in 7 steps.
Understand the motivation factors
Module 3 – Romancing (12 – 18 Nov 2021)
How to know customer's desire and how to present effectively?
Luxury is about emotion
Module 4 – Persuasion (18 – 25 Nov 2021)
Convince customers with the power of persuasion
Learn how to handle objections, including price
Module 5 – Customers Relation (26 Nov – 2 Dec 2021)
How to build long term relation with customers and consolidate the meaning by having action plan for improvement
Assessments
Participants are required to submit 3 assignments. 20% of the original assessed marks will be deducted for any late submission. Late submission after 7 days of the deadline will not be accepted.
Programme Trainer:
Mr Francis Srun
Francis SRUN has over 20 years of luxury brand and retail management experience managing for international luxury groups and prestigious brands such as Richemont, Kering, Piaget, Boucheron and Ralph Lauren. He is keen to share his expertise and has published 2 books dedicated to Luxury customers psychology as well as purchase behavior and selling techniques.
He has designed this e-learning programme in an easy-to-follow method that participants will be able to manage according to their schedule and then interact with him in the webinar meeting. Francis has obtained a Diplôme d'études supérieures commerciales, administratives et financières from the Grande Ecole Sup de Co Bordeaux in France. He is Swiss Federal certified professional trainer, coach and instructional designer.
Date:
29 October 2021 – 2 December 2021
Location:
Online Learning Platform
Format:
Self – Learning Online Video (estimated 12 hours) + Zoom Webinar Meeting (7hours)
*Please refer to pamphlet for zoom meeting schedule
**Trainer will interact with participants regularly via online learning platform
Course Outline: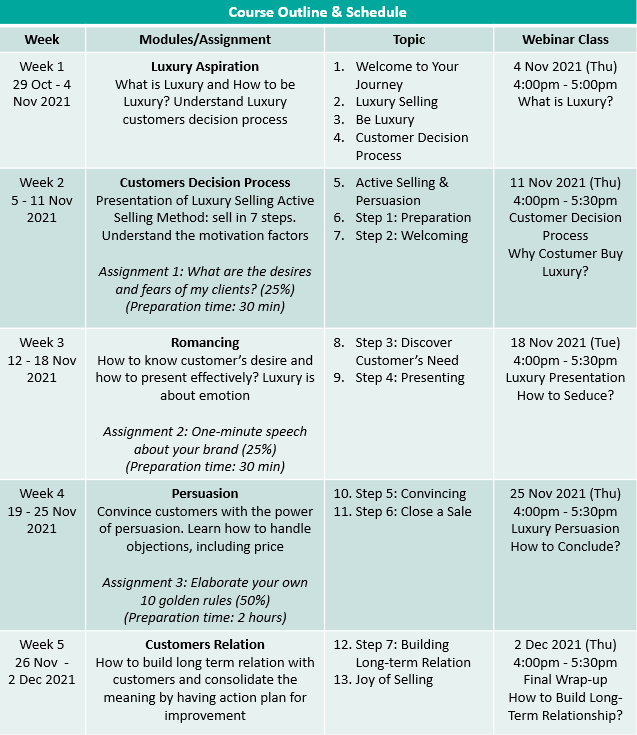 Language:
English, teaching material in English
Target Audience:
Practitioners who just joined the luxury selling industry such as sales advisors, brand ambassadors and insurances sales advisors
All luxury/high value products retail selling team including luxury, vehicle, property
Retail owners, directors, CRM managers
Interested parties who plan to join luxury retail sector and those who wish to know about luxury customer phycology and retail selling skills
Certificate Award:
"Professional Certificate in Luxury Customer Psychology & Retail Selling Skills" will be awarded to participants who have completed the full programme requirement with 75% or above attendance rate and obtained an overall pass (50%) in the assignments.
Programme Fee:
Standard: HK$5,800
(Early Bird Offer: HK$5,220, applicable on or before 8 Oct 2021)