HR Transformation Series: Agile in HR
暫只提供英文版本
In this increasingly complex and volatile business environment, organisations are seeking more agility to enhance innovation and address the challenges ahead.
Therefore, agility in HR function is pivotal to reinvent people operations. In addition to becoming more people-centric, delivering business value more efficiently is also the core value for enhancing agility.
In this session, senior executives will share with us how to foster agility in HR, be innovative and adaptive to different perspectives when designing HR services and processes so as to drive organisational transformation and sustainable development.
Date
29 June 2022 (Wednesday)
Time
16:00 – 17:30
Venue
SME One, HKPC Building, 78 Tat Chee Avenue, Kowloon, Hong Kong
Speakers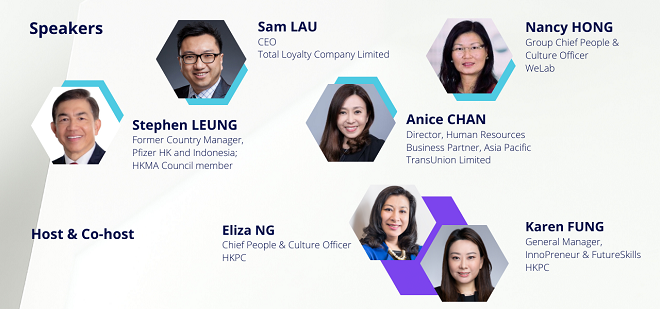 Stephen LEUNG
Former Country Manager, Pfizer HK and Indonesia; HKMA Council member
Sam LAU
CEO
Total Loyalty Company Limited
Anice CHAN
Director, Human Resources Business Partner, Asia Pacific
TransUnion Limited
Nancy HONG
Group Chief People & Culture Officer
WeLab
Host & Co-host
Eliza NG 
Chief People and Culture Officer
HKPC
Karen FUNG
General Manager, InnoPreneur & FutureSkills
HKPC
Language
Cantonese
Fee
Free